WATERFRONT STREET WITH WATER VIEWS
92 Wahine Drive RUSSELL ISLAND
price

$149,950 WATER VIEWS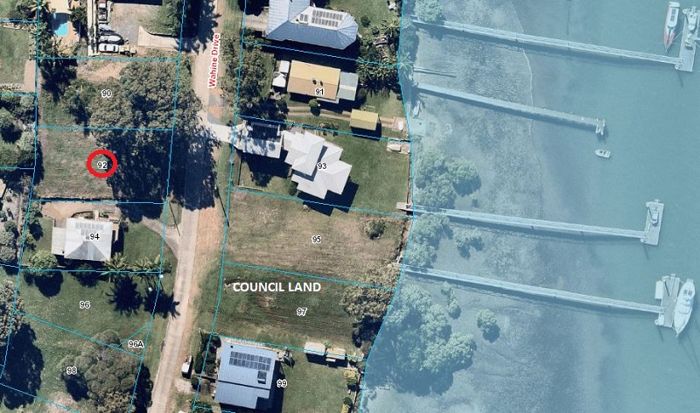 Click on any of the images below for a slide show or click on Image Gallery for more photos.
WATERFRONT STREET WITH WATER VIEWS
Property ID

20079017
This Russell Island block of land has uninterrupted water views of the Canaipa Passage. Positioned in a secluded water front street, the block has an amazing outlook from its gentle elevation.
The land size is 602 square metres and is 34 meters deep and has a wide 18 metre frontage.

>> Russell Island in Redland City is the biggest of the Southern Moreton Bay Islands, situated between the mainland and North Stradbroke Island. The island is eight kilometres long and nearly three kilometres wide.
>> You will be greeted by an amazing mosaic masterpiece that will set the mood for your visit to Russell Island. It is separated from North Stradbroke Island by Canaipa Passage and extends down almost as far as Jumpinpin Bar between North and South Stradbroke islands. It also has views south to the Gold Coast.
>> The island boasts a variety of facilities and amenities being the largest island, such as the Southern Moreton Bay Island Museum, swimming pool, RSL and bowls clubs. There is also a medical centre, supermarket, library and many public parks to explore.
>> Russell's hallmarks are its easy-living, fishing opportunities and connection with the natural environment. The bird life is simply amazing, with the island a world-recognised sanctuary.
>> Shopping - The island has a shopping centre, including an IGA supermarket, and a wide range of services.
>> Accommodation - There is a range of holiday accommodation and B&Bs on the island.
>> Schools and colleges - Russell Island State School serves the island community. Secondary students attend school on the mainland.
>> Getting there - Passenger and vehicle ferries depart from Weinam Creek Marina, Banana Street, Redland Bay:
Southern Moreton Bay Island Ferry - 07 3206 8033 - passenger ferry
Stradbroke Ferries - 07 3488 5300 - vehicle ferry
Inter-island transport is free.
Mainland bus services connect with island transport services.
>> History - On Russell Island, there is an Aboriginal crossing point from the northeast tip across Canaipa Passage to Stradbroke Island.

There is a selection of builders on the island that can assist you in the design and build of your home, and several builders on the mainland who also build on the island. For more information on this land please feel welcome to call us anytime.


| | |
| --- | --- |
| Property ID | 20079017 |
| Bedrooms | 0 |
| Bathrooms | 0 |
| Garage | 0 |
| Kitchen | |
| Pool | |
| Front Yard | |
| Air Conditioning | |
| Flooring | |
| Security | |
| Land Content | |
| Land Size | 602 Square Mtr approx. |
| Building Type | |
| Building Age | |
| Rental Return | |
| Rental Return Period | |
| Rental Return Actual | |
| Nett Return | |
| Units in Complex | |